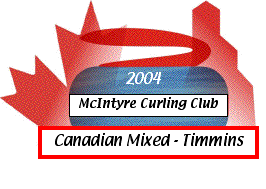 The 2004 Canadian Mixed
Curling Championship
January 10-18, 2004
THE HISTORY OF THE McINTYRE CURLING CLUB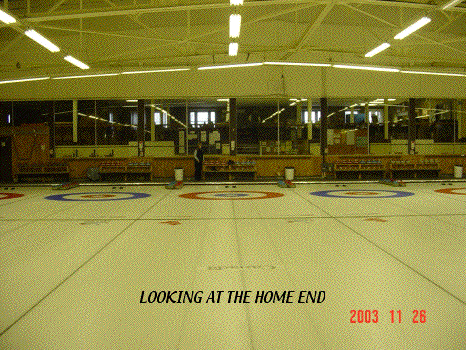 Scientist conjecture that that it is over a million years since man threw the first boulder and we wonder what took so long, as the same scientists tell us that the rock mined in the Timmins area is about 3 billion years old.
On the other hand, historians advise that it was a scant two thousand years ago that the first stones were hurled on the ice for fun. Unfortunately, this was in Scotland, but we have it on good authority that one of the hurlers was names "McIntyre" !!
Sixty years ago, on March 20, 1924 the original Timmins Curling Club was formed with four sheets of ice located adjacent to the railway station in downtown Timmins. The first official competition was held December 19th of that year, and one of the competing teams was from the Montreal Thistle Curling Club, who presented a scroll to the new club wishing them the best.
During the years that followed, the Club and curling grew in the North such that they formed the Temiskaming & Northern Ontario Curling Association, with Timmins hosting the first T&NO Bonspiel in 1932.
The curling seasons were short in those days before artificial ice, with the formal beginning about January 1 st and the season closed any time after the middle of March.
1938 saw the beginning of the McIntyre Curling Club per se, as it was that year that the management of the McIntyre Mine decided to add a curling rink to the McIntyre Community Center which was already under construction. The club was actually organized in the winter of 1939 and just in time, as the Department of National Defence took over the premises of the Timmins Curling Club in 1940 to house the Armouries for the Algonquin Regiment due to the outbreak of the Second World War. When the military decided to retain the building permantly, the former members of the Timmins Curling Club joined the McIntyre Curling Club and the Timmins Club ceased to exist.
The membership of the curling club in 1939-1940 year consisted of 507 men. The members were made up mostly of McIntyre mine employees who paid the whopping sum of 25 cents monthly with an equal amount paid by the McIntyre Mine.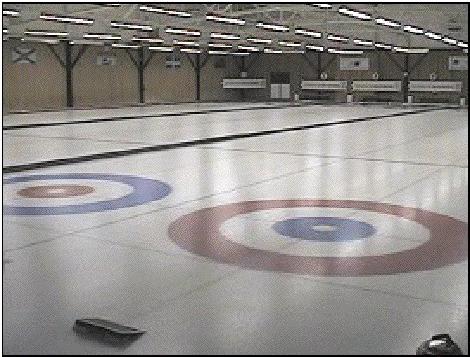 View of the ice surface.

The McIntyre Community Centre was sold to the City of Timmins about 35 years ago and is maintained and operated by the City, with the exception of the curling club portion which is maintained by the curling membership for the curling season.
As the years progressed, the McIntyre Curling Club, fondly referred to as the "Mac" gradually became the district headquarters for curling and the great times associated with the "roarin' game.
Numerous Association bonspiels and playdowns have been hosted by the Mac, as well as several Provincial finals. Our first test as a host of a National Title came with the succesful hosting of the 1972 Junior Canadian Championship.
Events leading up to 1982 changed the complexion of the "Mac" forever; we were awarded the Seagram's National Mixed Championship and membership and community at large responded by hosting an event that was in the words of the Seagram's representative the most successful championship they had ever witnessed in the history of the Seagram's competition.
A complete renovation of the club took place prior to the Seagram's Championship. The redesign included turning a portion of the old bowling alley into mens and ladies locker rooms, enlarging the upstairs lounge by removing the locker rooms, moving the bar and the office to the area which was formerly the mens locker room, changing the location of the entrance to the lounge and turning the old "Watering Hole" into a conference room.
Today, the McIntyre Curling Club boasts one of the finest curling facilities anywhere in the country